3. Daily and Weekly Planning
The Weekly Schedule is where you decide when you are going to work on each of your projects.
Weekly planning gets you away from trying to FIND time for your projects and helps you MAKE time for them.
The week is a natural period for effective short-term planning because it's short enough to make meaningful plans based on your top priorities, and it's long enough to allow you to balance urgent tasks with important long-term projects and initiatives.
If you are familiar with the time management principle of the "big rocks" in the jar (click here to learn more about it), weekly planning helps you put the "big rocks" into your schedule first.
Achieve Planner uses project blocks, which are times that you've committed to a specific project, to represent your big rocks. A project block is like an appointment that you make with yourself to get your most important work done.
The best way to prove to yourself that you are really committed to a project is to MAKE time for it by scheduling it in your calendar. Many Achieve Planner users report that scheduling project blocks really helps them get their projects done, even if they only use project blocks 2-4 hours each day.
Weekly Planning gives Achieve Planner a significant edge over other tools that just focus on task management but don't incorporate weekly planning.
You can use project blocks to plan as much of your time as makes sense in your work environment.
Some people may only be able to plan the first two hours of the day reserving project blocks for their most important projects, while others may want to use project blocks to plan their entire day.

Click Image to View Larger Size
In general, it is better to schedule time at the project level instead of the task level to avoid adding too much unnecessary detail to your plan.
You'll find that focusing on a specific project for a block of time is much more effective than jumping around from one unrelated task to another. It will help you stay focused while avoiding distractions and multitasking.
In my experience, project blocks work best when they are about an hour. That way you have a well defined unit of work with a clear beginning and ending... and you can stay focused without feeling too tired or distracted.
You'll find that staying focused for a one-hour block at a time is not that difficult if you practice and keep using the system.
If you need to, you can easily reschedule your project blocks as needed by moving the appointments.
"I would like to congratulate and thank you for developing a very useful piece of software. I am a scientist doing biomedical research at a large university medical school and I am VERY busy.
I have looked for a long time for software that would be genuinely helpful in managing my schedule.
Your product is the first thing that I have found that really seems to be working."
- R.E. Crist, Ph.D.
Time Charts
Using time charts, Achieve Planner helps you allocate time to different activity zones like work, breaks, routine work, health, family time, etc. to represent what your ideal week would look like.
Figuring out and consciously designing what a very productive day would look like for you ahead of time is a great way to add more structure to your workweek and incorporate time for breaks and energy recovery right in your schedule.
If you like, you can display these color-coded Time Charts in the background of your schedule or you can hide them from view.

Click Image to View Larger Size
A time chart is a great way to integrate breaks and fun activities in your schedule so you see that your life is not just about work.
Video Tutorial (link opens in new window):
Time Charts - How to use Time Charts to plan your ideal week
Weekly Planning Wizard
The Weekly Planning Wizard is a powerful and valuable tool in Achieve Planner because it helps you MAKE time for your most important projects ahead of time.
You start by deciding what projects are the most important for the upcoming week and how much time you want to commit to each of them.
You can then drop project blocks into the schedule based on your time commitments.
Weekly planning with project blocks helps you put first things first and MAKE time for your most important projects each week.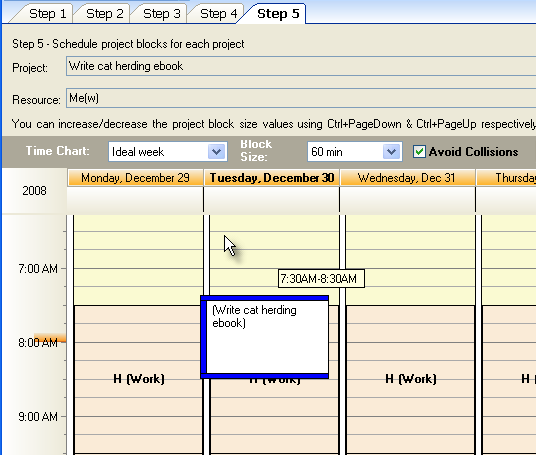 Video Tutorial (link opens in new window):
If you prefer, you can also use drag & drop to add project blocks into your weekly schedule at any time. Just drag items from the Projects panel in the Weekly Schedule tab and drop them into your schedule.
Video Tutorial (link opens in new window):
Project Blocks - Other ways to create project blocks in the weekly schedule
Case Study # 2 - Professor, Doctor, Researcher & Working Mom
Caroline Richardson, MD is an assistant professor at the University of Michigan Health Systems, a research scientist, a family practice doctor and working mom with several projects and responsibilities for each role.
"I have a lot of different jobs: physician, researcher, teacher, mom and lots of projects going for each role. Before I started using Achieve Planner, I spent a lot of my time just trying to figure out what I should be working on and things I was supposed to be doing didn't get done.
I went through a phase of using Microsoft Office OneNote to keep track of my stuff and it just wasn't a good enough to do list manager and project manager for me," Caroline says.
Since she started using Achieve Planner, Caroline has noticed some significant improvements in her organization and productivity, "I spend less time spinning my wheels, less stuff not getting done because I forgot to do it, and more efficient planning and execution of tasks."
She adds, "I also spend less time writing out to do lists. I feel generally calmer because the constant feeling that I have forgotten to do something important is not nagging me. I might miss a deadline or I might not have time to get something done, but at least I know exactly where I stand with every project and task and I can make rational decisions about what is most important."
"When I'm at work, I can focus more on work stuff because I know that my list of tasks for home is up to date and that when I get off work, I will be able to efficiently tackle home tasks.
I am more focused when working on a specific project because I am more confident the current project is the thing I need to focus on now and that the little tasks / emails / phone calls are all on a list and can be accomplished quickly later. More things are getting done and I'm less likely to miss deadlines."
Caroline found Achieve Planner's task tracking functionality and the ability to schedule time for projects particularly helpful. "I think the task list features are really great. It is easy to add, rearrange and sort tasks. Also the idea of planning blocks of time to work on bigger projects has really helped me get the big stuff done," Caroline says.
She adds, "Work on large complicated projects was going slowly, but the planning and organization features of Achieve Planner, especially the idea of breaking projects down into sub projects and tasks, scheduling and prioritizing each one and having a follow up or next step task for every task that has been completed is very helpful. I put in a large grant last month for which I planned and tracked every step and every revision in Achieve Planner until it was done."
Because Achieve Planner incorporates sound time management principles, Caroline found that just using Achieve Planner has helped her develop better time management habits, "Because I work on so many different projects simultaneously, I was constantly switching from project to project and the transition time between projects was eating up all of my time.
By planning large blocks of time to work on a specific project, I waste less time with frequent transitions and make more progress. Also, the organization and tracking features of Achieve Planner decrease transition times because I always know what task needs to be done next. I have several different offices and the scheduling features of Achieve Planner helped me plan my meetings etc so that I don't spend all day driving from one office to another getting nothing done."
Caroline found that using Achieve Planner helps her say "no" to opportunities and commitments that don't fit with her top priorities, "I am better able to respond to invitations and requests for collaboration or consultation because I have a better idea of how much of my time is already used up over the next few weeks. It used to be that if I got an interesting invitation I would leave it in my email inbox for a while trying to decide if I could do it. Now I say no more often and more quickly because it is more obvious that taking on another task or project is not a good idea."
Caroline also found the time management training and support included with Achieve Planner particularly helpful saying, "I think the online tutorial was excellent and allowed me to get up to speed with the software very quickly."
Click Here To Download Your Free 30-Day Trial