"Thanks for making such an awesome product. This is far superior to any I've used before!"
- Stephanie Chapman
"Discover a Powerful Tool To Help You
Set, Plan and Achieve Your Goals and
Take Control of Your Life... Guaranteed!"
Achieve Planner is a Windows goal setting software system that helps you get organized, increase your productivity, and set, plan, execute, and track your goals.
Discover your mission, vision and values for each life area

Define, organize, manage and track your goals

Create powerful action plans and break goals into small steps

Keep track of your progress for each goal

Connect your daily actions to your mission, vision and goals

Use projects and tasks to take action and implement your goals
You can easily download and start using this powerful software right now...
Only $99.94 for Achieve Planner Productivity Suite edition.
Do any of the following symptoms seem at all familiar?
| | |
| --- | --- |
| | Not making meaningful progress on your most important goals |
| | Feeling overwhelmed and disorganized |
| | Lacking clear direction and focus |
| | Feeling lost with no sense of purpose |
| | Lacking balance and fulfillment |
| | Feeling like you are spinning your wheels |
| | Unable to make lasting changes in the areas that matter most |
| | Not taking action |
Imagine if you could find a comprehensive goal setting software system that really helps you set and achieve your most important goals, focus on what is most important, feel like you are finally in control of your life, and increases your probability of success.
Well, you don't have to wait any longer because that's what Achieve Planner can do for you!
Only $99.94 for Achieve Planner Productivity Suite.
At last! A Practical Goal Setting Software
System That Really Works!
But don't take my word for it, here is what customers from all over the world are saying about this unique and powerful program...
"The best life planner I've ever used! When it comes to doing complete "Life Planning" there are very few products on the market that allow for it... I've tried everything from paper planners to over a dozen software packages. I've settled on the Achieve Productivity Suite to help put my life in order!"
- Eric Eckberg
"After trying Achieve Planner for nearly two months I can honestly say that it has revolutionized the way I work.
I have an incredibly busy schedule so I need something that can cope with a multitude of tasks, projects and appointments whilst at the same time keeping me focused on what is most important. Achieve Planner does all of this and much more besides.
Over the years I've tried pretty much every system on the market and nothing, absolutely nothing, comes anywhere close to this. It looks great, works superbly, comes with excellent instructions, is a pleasure to use, but most important of all - IT REALLY WORKS!
For anyone who wants to get organized and take their productivity to the next level Achieve Planner is an absolute must. It's one piece of software that I'm certain I'll be using for many years to come."
- Paul Smithson
Read More Testimonials from Satisfied Customers

Thousands of Achieve Planner Customers from All Over the World
(each point represents total customers from a given city)
But consider this... if you just keep doing the same things you are doing now, you'll keep getting the same results. Obvious, isn't it?
That's why I want you to try Achieve Planner completely and totally risk-free!
30-Day Trial - Try Achieve Planner for Free
I have so much confidence in Achieve Planner, that I'm willing to give you a free 30-day trial so that you can take it for a spin and see for yourself if it will work for you.
You have nothing to lose. If you don't like it, simply uninstall it. You don't pay anything until you decide to purchase.
"As I stated in a previous message, the "Achieve Planner software" is the "BEST" on the market today. I've used Act, and PlanPlus software for several years and these programs can not compare to Achieve Planner. You've captured all of the time management tools I've wanted for many years rolled in to one fantastic designed package.

The free "complete" trial version really provided the opportunity to really test drive your program.

I'm sold on the Achieve Planner software, and will be purchasing the program as soon as I send this message.

Great job!"

- Harold Zimmer
It's easy to get started right away...
Click here to download your free 30-day trial of Achieve Planner today!
Unconditional 100% Money Back Guarantee
Not only do I offer you a free 30-day trial, but I also give you an unconditional 100% money back guarantee once you decide to purchase.
60-Day Money Back Guarantee
If you are not completely satisfied with Achieve Planner, just let me know within 60-days of your purchase and I promise you a prompt and courteous refund.
Only $99.94 for Achieve Planner Productivity Suite.
Here are even more reasons why Achieve Planner can help you set, plan and achieve your goals...
Discover Your Mission, Vision and Values for Each Life Area and Create a Comprehensive Life Plan
Achieve planner uses result areas to represent your life dimensions or roles.
You can develop mission/vision statements for each area, capture your guiding principles/values, and perform a Strengths/Weaknesses/ Opportunities/Threats (SWOT) analysis.
"I have tried just about every piece of time and project management software on the Internet, as well as most of the goal setting software that's out there too!

I have to say that Acheive Planner is _the best_ program I have ever used."
- Dean W. Charron
Set, Plan and Track All Your Goals
The goals list allows you to set, organize, plan, and track your goals. They may represent short-term goals supporting a dream, or any other type of goals you are pursuing.
Achieve Planner helps you create powerful action plans for each goal, including purpose/vision statements, benefits, obstacles, breaking the goal into smaller steps, regular actions, and rewards.
You can even create a goal action plan report and save it in various formats.
Track Your Progress Using Metrics and Graphical Reports
Each goal contains an entry where you can record individual achievement/progress milestones.
In addition, you can track measurable values using metrics, which allow you to enter numeric values for any measurements you want to track.
Use performance reports to view your progress in each metric you are tracking.
Use Projects & Tasks to Implement Your Goals
Achieve Planner provides a central location to keep track of everything you are working on and need to get done.
It uses hierarchical (multi-level) outlines, which means you can break up goals items into smaller steps using as many levels as you need.
Separating projects and tasks gives you a smaller, more manageable and effective to-do list.
Plan Your Work for Better Results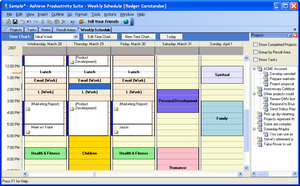 Make weekly and daily plans using the schedule. You can create "project blocks" to get important work done, and schedule other meetings, appointments, and activities.
The weekly planning wizard tool helps you plan your week, or you can do it yourself using drag and drop.
You can also sketch out your ideal week by allocating time for different activity zones like health & fitness, finances, and family time.
"Also, thanks for a brilliant product. I have tried several time management type applications prior to discovering "Achieve" and they all seemed to lack something.

After loading the achieve trial I purchased the product very quickly afterwards as I could see the potential. I've now been working with "Achieve" for three weeks and will certainly recommend it to others.

It does exactly what I need and gives me a method of managing the multiple projects that my daily work involves.

Kind regards,
Paul Ralph
Edinburgh Scotland UK
Set Priorities to Make the Best Use of Your Time
Too much to do and not enough time? Achieve Planner supports the ABCD prioritization system to help you spend more time on what is most important and valuable. Prioritizing your to-do list with our personal time management software helps you do less and accomplish more by using the 80/20 rule.
Work Your Plan and Get Things Done
Use your weekly plan and your prioritized to-do list to quickly remember what you need to do next. The software will warn you if any tasks are overdue or running behind schedule based on your deadlines.
You'll easily be able to determine if your deadlines are achievable or not.
Read More Testimonials from Our Satisfied Users

Only $99.94 for Achieve Planner Productivity Suite.
Sincerely,
Rodger Constandse, CEO of Effexis Software

P.S. If you still have any lingering questions or concerns, feel free to contact us.
* Achieve Planner is available for electronic delivery only and is not shipped in a box